Have You Ever Wondered if You Could Prevent Frozen Pipes in Waretown Homes?
1/6/2019 (Permalink)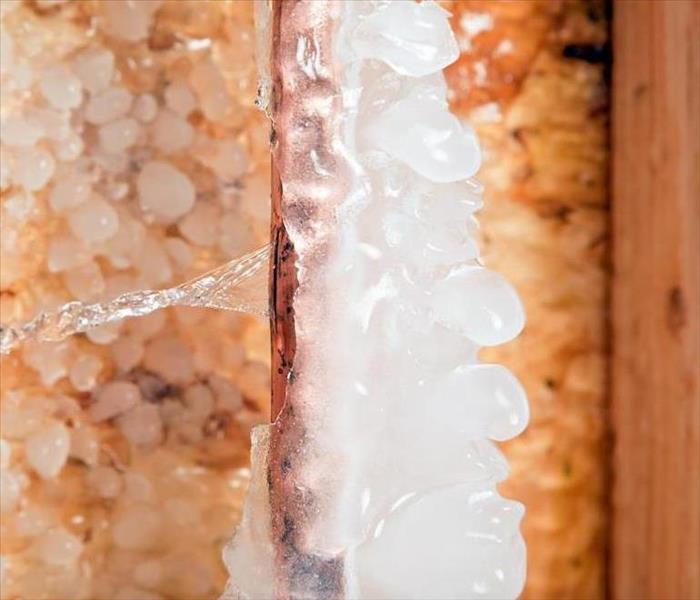 When frozen pipes burst, water damage can result. Contact our team at SERVPRO for water removal and remediation services.
Identifying Frozen or Freezing Pipes in Watertown Homes
As a Watertown homeowner, you can appreciate the threats to your property when the winter months set in and temperatures drop significantly. Freezing water pipes can pose damaging situations for your house if not addressed in time, and part of that fast reaction to the situation revolves around you understanding when this potential problem exists. Knowing what to look for and when can help to limit the damage to your property when a water line bursts inside your house.

If you have already had a pipe burst in your Watertown residence before, you can appreciate the need for a fast response to get professionals there immediately to begin the water removal process. The more materials that become exposed to the spreading water, the more potential tear out and reconstruction that can become required. Our SERVPRO professionals can respond quickly to the situation, as we are a team of experienced professionals available to our customers 24 hours a day.

Identifying problems with the pipes before ice damming and over-pressurization allows for bursting and splitting can be critical for any homeowner in the area. The problem is, many homeowners do not know that they have under-insulated areas of their indoor plumbing without them freezing first. On especially cold evenings and days throughout the winter months, visual inspections of exposed pipes can help to show which points show crystallization which can indicate the onset of freezing water inside.

Another method for identifying a problem is a noticeable drop in water pressure, or a foul odor emanating from the drains. You can reduce the present pressure to blockage by shutting off the main supply valve to your home and working quickly to thaw out the affected areas of the pipe.

Once our SERVPRO professionals arrive at an emergency break, we can work to remove the excess water and begin drying the area quickly. We can also take this opportunity to identify potential problem areas with the plumbing to prevent future breaks.

Freezing pipes are an ever-present threat for area homeowners throughout the winter. While identifying the issues early can save damaged plumbing, our SERVPRO of Jefferson County water restoration specialists can work quickly to preserve your property once a break occurs. Give us a call today at (315) 777-8377.

Click here for more information about Watertown.