Fort Drum Venues Benefit from Mitigated Flood Damage with SERVPRO's Help
3/18/2019 (Permalink)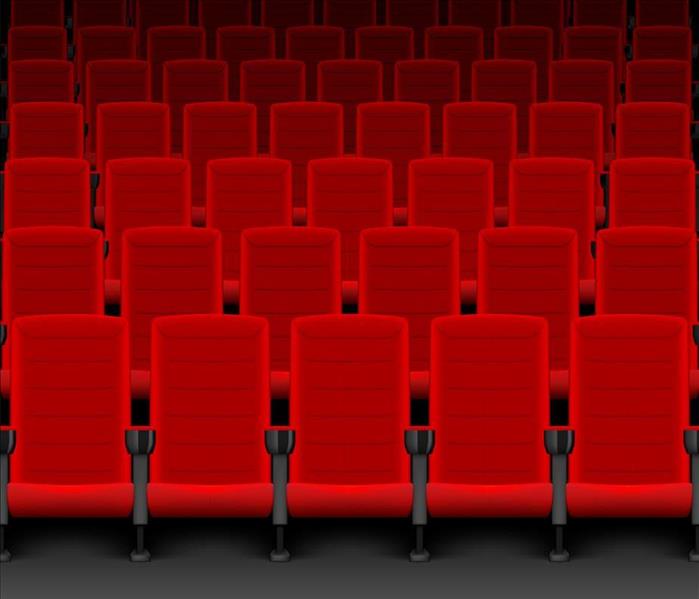 SERVPRO Keeps the Projector Rolling with Fast Cleanup of Theaters and Other Commercial Property after a Flood in the Fort Drum Area
Fast Extraction for Flooding in a Fort Drum Theater
While you might not have events that take place in your Fort Drum theater every day, the facility needs to be kept in top form when possible. The historic building has survived many harsh weather systems and storm damages that have occurred over the years, and it provides a place where art-minded residents can convene to appreciate theater productions. Whenever torrential rainfall occurs over many days, flooding can occur that can pour quickly through areas like the lobby and make their way down the natural grade to the stage area.

When disasters like these cause flood damage in your Fort Drum theater, you need a fast-acting team with the equipment to make a difference quickly. With the right response to the emergency, our professionals can often limit the spread of this damaging water throughout the building, reducing the affected area and helping to make later restoration efforts efficient and more cost-effective.

Part of the effective approach that our SERVPRO team has for flood water removal and drying efforts relies on our advanced technology and equipment. Extraction is a vital component to protecting original materials from getting saturated by floodwaters spreading, and we have many tools that can work to contain the damage and prepare the theater for the drying efforts to come. Often portable sump pumps and gas-powered trash pumps are sufficient for removal. For excessive volumes of floodwater, we also roll out from our facility with an extractor truck for high-powered extraction of widely affected areas.

It is important to remove this excess water as quickly as possible because saturation can occur quickly with many of the exposed materials. Drying tools like our high-velocity air movers and dehumidifiers can treat large areas contending with moisture. By removing the dampness lingering in the environment and affected materials, our SERVPRO professionals can limit the secondary effects like mold growth as well.

One of the priorities that you have as a theater owner is getting the facility back open to those that need it and enjoy its productions. Seating padding and fabrics can be challenging to dry and sanitize. We have specialized hand wands that can generally restore these seats to preloss condition.

To do this as efficiently and effectively as possible, you should trust in the fast response and expertise of our SERVPRO of Jefferson County water restoration specialists. Give us a call anytime at (315) 777-8377.
For more about the local military base click here.