What Everyone Ought to Know About Commercial Flood Damage Remediation in Watertown
4/20/2019 (Permalink)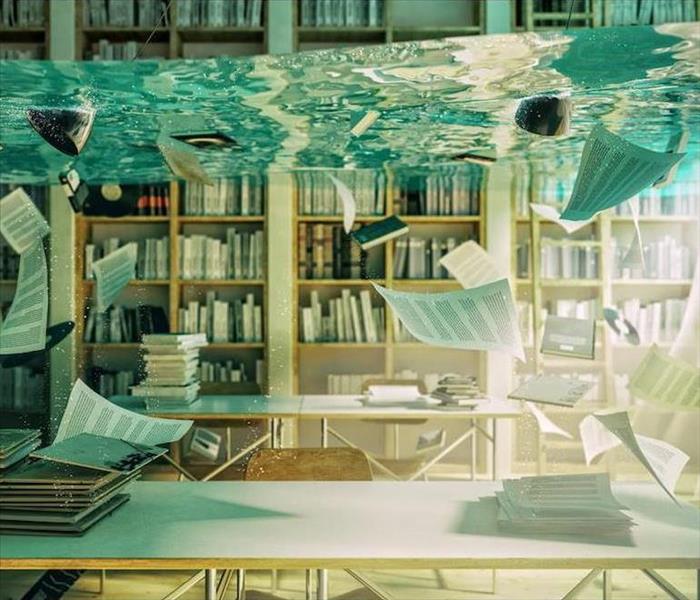 When flood damage affects your office, it is time to contact SERVPRO for water removal & remediation services. We are available 24/7 365 days a year.
Commercial Flood Damage Control for Watertown Businesses
Being just a bit inland from Lake Ontario puts Watertown at greater risk for flooding than many other cities and towns in our state. Rain and snow storms can come rolling in with little warning, and local businesses can find themselves with closed doors and no production until the owner removes the water and its effects.
Commercial flood damage to Watertown business requires not just water removal, but quick drying of the structure and contents as well. SERVPRO response teams know that even a small amount of moisture can ruin inventory in a light industrial building, such as an electronics assembly plant.
Even after removing the flood water, a high level of moisture remains in the structure. The increased air moisture content (high humidity) can cause the same damage as floodwaters getting into something, just at a slower rate. That is why our technicians immediately install dehumidifiers after finishing up with the pumps and other water extraction devices.
Since drying components by hand is a risky method at best, SERVPRO specialists use these devices to pull water from the surrounding air. The action speeds up the natural evaporation process and dries the electronics without needing to touch them. To increase the evaporation rate, team members can also place exhaust fans to pull the damp air from inside the facility.
They can further reduce the drying time by using air movers. Specialists adjust the speed and temperature of the airflow to help quickly force water off of delicate surfaces without causing secondary damage to the components. The action pushes it into the air where it is captured and removed by either the dehumidifiers or exhaust fans.
At SERVPRO of Jefferson County, our goal is to help every business reopen its doors. We understand that your customers have a choice when it comes to suppliers, and missing even one day's worth of production can result in losing a valuable sale. If your business is in this situation, or you want to prepare now for the next storm, call us at (315) 777-8377 today to schedule a service call. We are here for you.
Click here for more information about the city of Watertown.