SERVPRO Will Develop The Right Plan To Restore Your Watertown Home After Flood Damage
5/3/2019 (Permalink)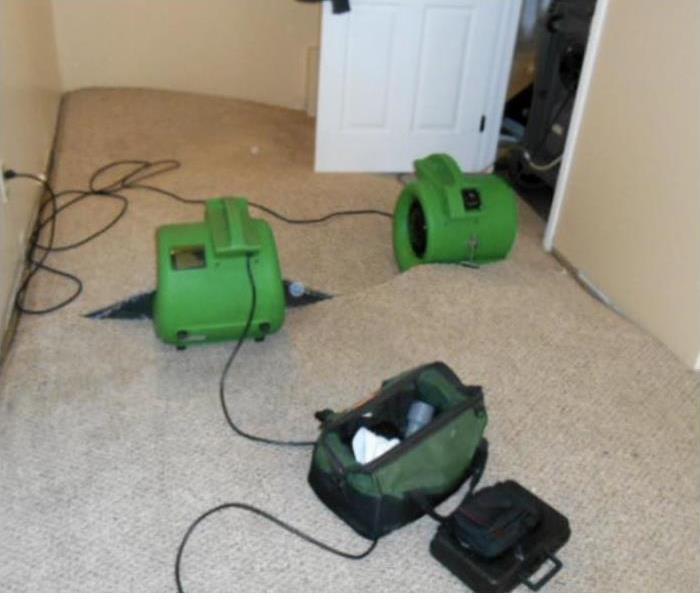 The flooring in this home was covered in water damage. We responded and put air movers in place for quick drying to prevent future damages.
Proper Scoping Before Fixing Flood Damage in Watertown is Crucial
It can be very disheartening to see your home swamped by floodwaters considering the structural damage and soiling that accompanies such incidents. Your first idea could be to save whatever you can to minimize financial or sentimental loss. However, scoping the damage first is more important even when it seems like a waste of time. We are IICRC certified in flood damage restoration and can, therefore, help evaluate and document the damage in your Watertown property.

After an incident of flood damage in Watertown, many insurers expect you to take every step possible to prevent further damages from occurring. Without proper scoping, it is impossible to establish all likely sources of secondary damage. Depending on how the flood damage happens, there might be windows smashed by debris if the incident involved strong winds or holes in the roof in case of falling tree branches from lightning strikes. Our SERVPRO technicians help pinpoint such problems take corrective measures such as boarding up or installing roof tarps. We also take photos to document these steps for your insurer.

Whether rising water flows into the property or openings in roofs and walls allow rainwater in, it rarely sits in one location where you can extract it easily. Absorption by various materials as well as gravity action leads to migration to different sections of the property. If you do not check the level of migration, you might leave traces that can cause problems in the future. Our SERVPRO technicians use different equipment to scope water migration. We use moisture sensors to check for wet materials or moisture meters to tell the level of wetness. We also use FLIR thermal cameras to find wet areas behind walls or floor materials.

Flood damage soils materials and causes other forms of physical deterioration including damaging finishes such as paint. Scoping can help establish the kinds of damage allowing better planning for the restoration. Our SERVPRO technicians rely on their extensive experience handling similar cases to determine the essential steps.

Failure to plan is planning to fail. Call SERVPRO of Jefferson County to help scope the damage and device the right response plan. You can reach us at (315) 777-8377 any time. We're Faster To Any Size Disaster.