Revealed: How Team SERVPRO Remediates Adams Fire Damage Scenarios
9/8/2019 (Permalink)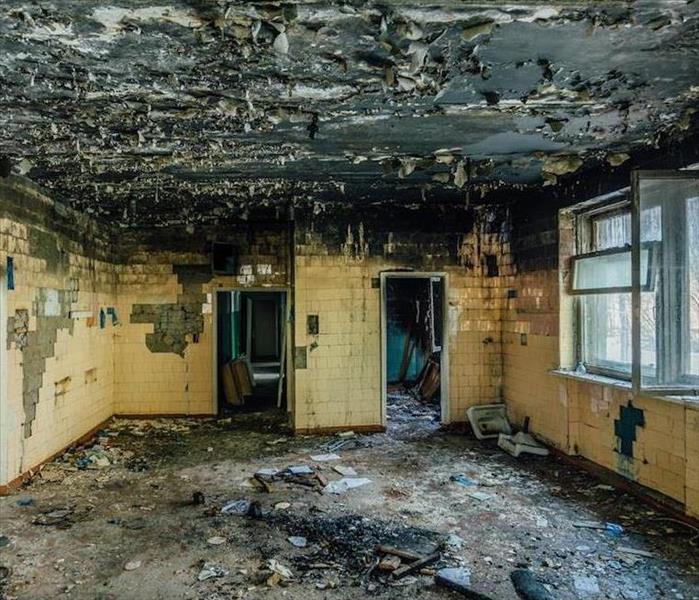 Fire damage and the water damage that adds in with fire extinguishing can be extensive. Contact SERVPRO right away for remediation.
How SERVPRO Handles Fire Damage to Floors in Adams Homes

Flooring bears the brunt of fire damage in a home collecting falling debris and charred items; while also surprisingly escaping loss in some cases.

When SERVPRO technicians handle fire damage cleanup in Adams properties, they carefully scope the loss area to determine the restorability factor of the building structure.

Quick Water Extraction
After fire extinguishing efforts, any standing water continues to do further damage to flooring. Including the delamination of floor tiles or glue-down carpeting. Another hazard from excessive moisture left behind is mold. Spores have the potential to germinate and set up home in as little as 24-48 hours if temperatures are above 70F-degrees. The technicians possess a Mold Remediation License #00261 and knowledge to identify and proactively treat areas prone to mold.
Prepping the Cleaning Area
To limit damage to the structure during fire debris cleanup, SERVPRO technicians use corner guards and protective coverings for trim and door jambs. They also lay down walk-off mats to inhibit tracking and safeguard against slip and fall accidents on wet surfaces.

Organized Cleaning Methods
During the scoping of the work-site, an organized grid is set up to ensure a thorough cleanup. SERVPRO technicians move items to the center of the room while cleaning floors. This method results in a faster cleanup of debris from the floor.

Carpet Salvaging After a Fire
In house fires where the carpet did not receive any burn damage, SERVPRO technicians determine whether or not it has restoration potential through their specialized cleaning processes. If necessary, the placement of furniture on blocks to inhibit stain from the furnishings leeching into the wet carpet.

Special Treatment for Hardwood Floors
It may take several repeats to clean a hardwood floor, but SERVPRO technicians repeat the cleaning process until the mop water remains clean after giving the floor a once-over. The deployment of proprietary techniques to dry the floorboards before the completion of further restorative efforts.
SERVPRO of Jefferson County stands ready to assist local property owners with the cleanup and restoration of fire damage. Contact our technicians any time at (315) 777-8377, and we can be on-site within an hour because We're Faster to Any Size Disaster.
Click here to see more info about the city of Adams.