How can we help with your smoke damaged home?
2/14/2022 (Permalink)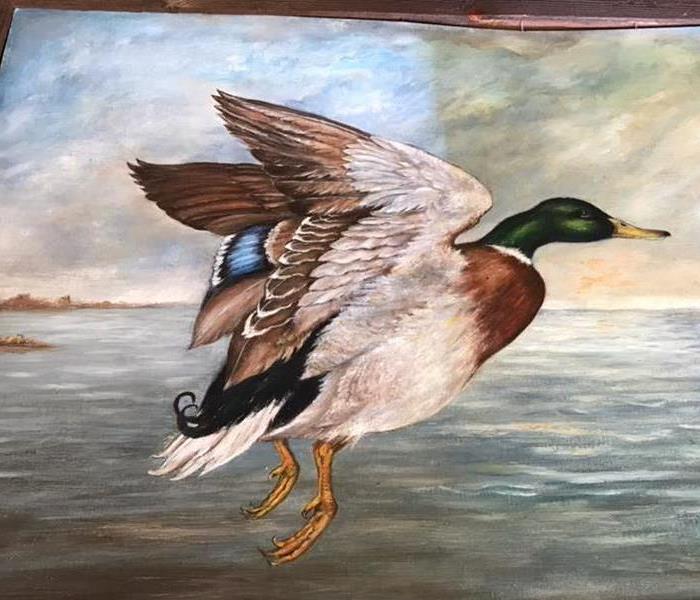 This old oil painting was damaged by smoke. On the left is the clean side, the right side has been untouched.
While many homeowners might find themselves preoccupied with the state of their home after a fire, the other effects that you cannot readily see can be equally problematic. Odors from a fire are often among the hardest to remove, and why it takes specialized equipment and specific training for qualified professionals like ours to eliminate permanently. Smoke odors cannot get concealed with a stronger smell, as it often gets embedded into materials, fabrics, and the air.
Smoke damage can spread quickly throughout your home both during and in the days after a fire. This odor can move far beyond the combustion areas to provide a challenge for homeowners still living in the home to endure. Many fire damage situations are small and localized, but overcoming this noxious odor then becomes a priority for those still exposed to the harsh scent every day.
The smoke from a fire can spread throughout your home through many different avenues. Often the HVAC system plays the most significant role in moving this odor from one location in the house to another, but this also posits residue, soot, and debris inside of the ductwork in between all of these areas. Our experienced SERVPRO technicians have the equipment to effectively remove buildup and sediment from the ductwork to help this system slow its spread of the odor.
Our industry-leading equipment such as our thermal foggers release a dense chemical compound and can help to deodorize open areas of your property and break apart foul odor molecules on contact. This equipment is also safe to use on softer materials and textiles throughout the property, making it an excellent choice to deodorize carpeting, clothing, drapes, furniture, and other structural elements. This, combined with our technicians hand washing walls, ceilings and belongings will help get the lingering odor out of your home.
Overcoming smoke damage in your home is not something that homeowners can do on their own. Our SERVPRO of Jefferson County team has advanced technology to remove smoke and fire odors, along with the residue and damage that they cause quickly. Give us a call anytime that you need us at (315) 777-8377.