Ultimate Solution for Commercial Flood Damage in Watertown
3/10/2019 (Permalink)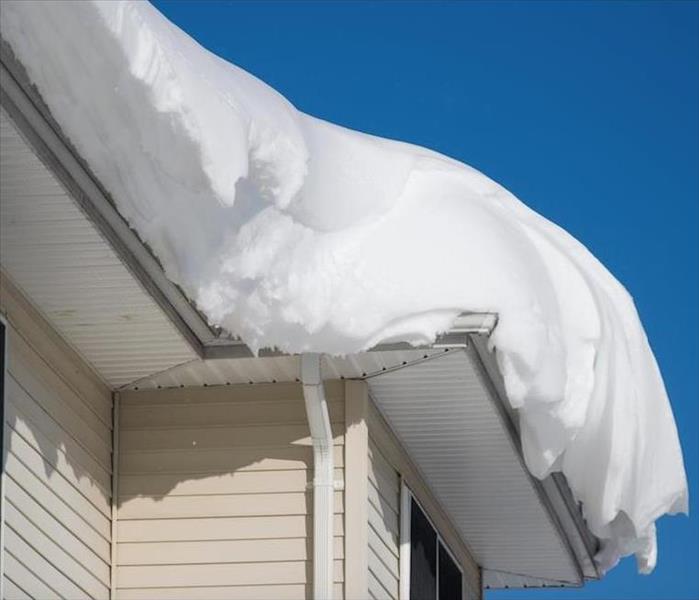 When your shop is facing flooding and roof damage after a storm, contact SERVPRO for remediation efforts. Call right away for best results!
Roof Reconstruction After Flooding in Your Watertown Shop
Severe weather could take different forms to cause damage to your Watertown building housing your small shop. With heavy snowfall that does not melt off quickly, roofs can begin to weaken under the excessive weight and become vulnerable to water penetration. Once this occurs, water can flow through these penetration points unabated during torrential rainfall situations where steady runoff occurs. The result is flooding of your building that begins through the ceiling material and eventually works its way to the main floor of your shop over a brief period.
While you might not know that your Watertown shop is at risk for flood damage until this situation is well underway, knowing what to do at the first sign of flood damage is critical to keeping your stock and your building safe from excessive ruin and later reconstruction. You need professionals that can respond quickly to the emergency to help slow the spread of the water and restore the damage fully, and our SERVPRO rapid response team can help.
One of the first steps that our technicians must take when we arrive at your damaged building is to do what is necessary to stop the penetrating water from continuing to flow through the roof vulnerabilities. These points can often get sealed over with emergency board up and tarping services. This process can allow our team to get to work on extraction and drying efforts that can protect many of the saturated and exposed materials from tear out and replacement.
Roof repair is something that must occur to restore your building fully following the extraction and drying of the exposed areas. Our licensed contractors can inspect the damage to the roof and determine the best course of action to repairing it or replacing it according to your wishes or that of your insurance provider.
Roof damage can allow for flooding to occur quickly to your small shop under the right conditions. Our SERVPRO of Jefferson County rapid response team has the skilled contracting team and certified restoration specialists to help with every step of returning it to preloss conditions. Give us a call today at (315) 777-8377.
Click here for more about Watertown.